Mixed drink recipe from print advertisement for Gilbey's Dry Gin
SHANDY as they serve it in BRISBANE Australia

A simple drink, yes, sir! … but if you ever met Shandy on a hot afternoon you know why it's one of Australia's favorites. To mix it, you take
1 part Gilbey's Dry Gin
5 parts Ginger Beer
Ice cubes
Serve in a tall glass with a twist of lemon peel.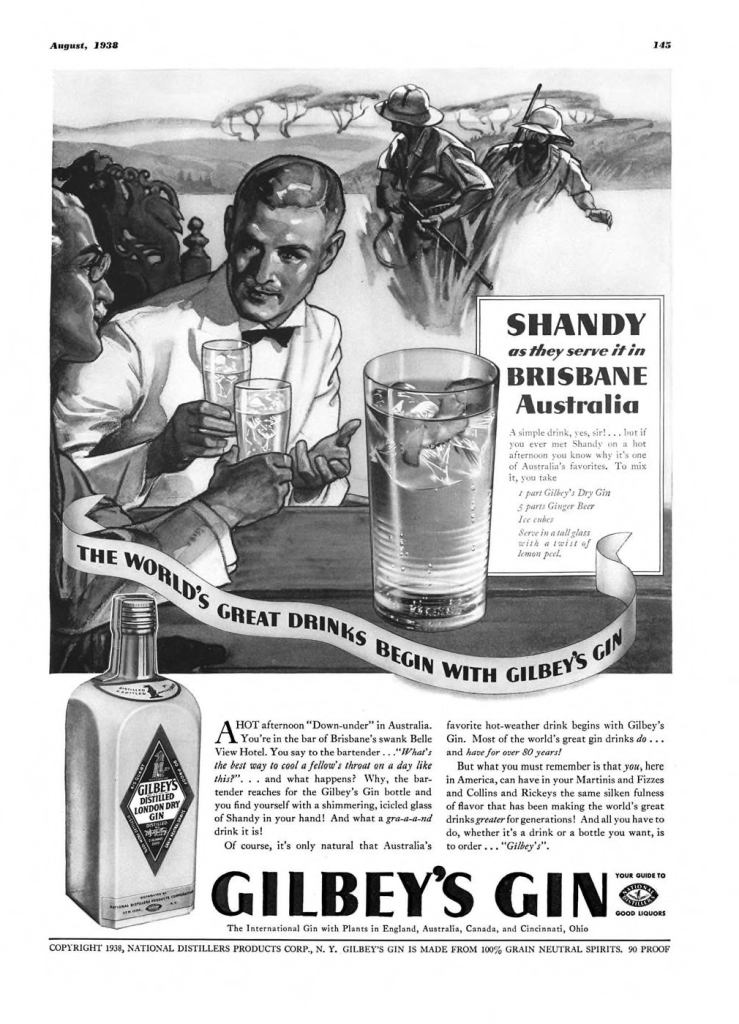 August, 1938
THE WORLD'S GREAT DRINKS BEGIN WITH GILBEY'S GIN
A HOT afternoon "Down-under" in Australia. You're in the bar of Brisbane's swank Belle View Hotel. You say to the bartender … "What's the best way to cool a fellow's throat on a day like this?" … and what happens? Why, the bartender reaches for the Gilbey's Gin bottle and you find yourself with a shimmering, icicled glass of Shandy in your hand! And what a gra-a-a-nd drink it is!
Of course, it's only natural that Australia's favorite hot-weather drink begins with Gilbey's Gin. Most of the world's great gin drinks do … and have for over 80 years!
But what you must remember is that you, here in America, can have in your Martinis and Fizzes and Collins and Rickeys the same silken fulness of flavor that has been making the world's great drinks greater for generations! And all you have to do, whether it's a drink or a bottle you want, is to order … "Gilbey's".
Gilbey's Gin
Your Guide to National Distillers Good Liquors
The International Gin with Plants in England, Australia, Canada, and Cincinnati, Ohio
Copyright 1938, National Distillers Products Corp., N. Y.
Gilbey's Gin is made from 100% Grain Neutral Spirits.
90 Proof