Mixed drink recipe from print advertisement for Gilbey's Dry Gin
PINK GIN as served at ADEN, ARABIA

If you have ever been in Aden, Arabia's great seaport, and met this famous drink in the Union Club, you know, of course, why they call it "Araby the blest"—
2 dashes of bitters, rolled inside the glass to coal the sides and bottom
1 jigger of Gilbey's Gin
Water, if and as desired … (but no ice in Arabia!)
Serve in a wine glass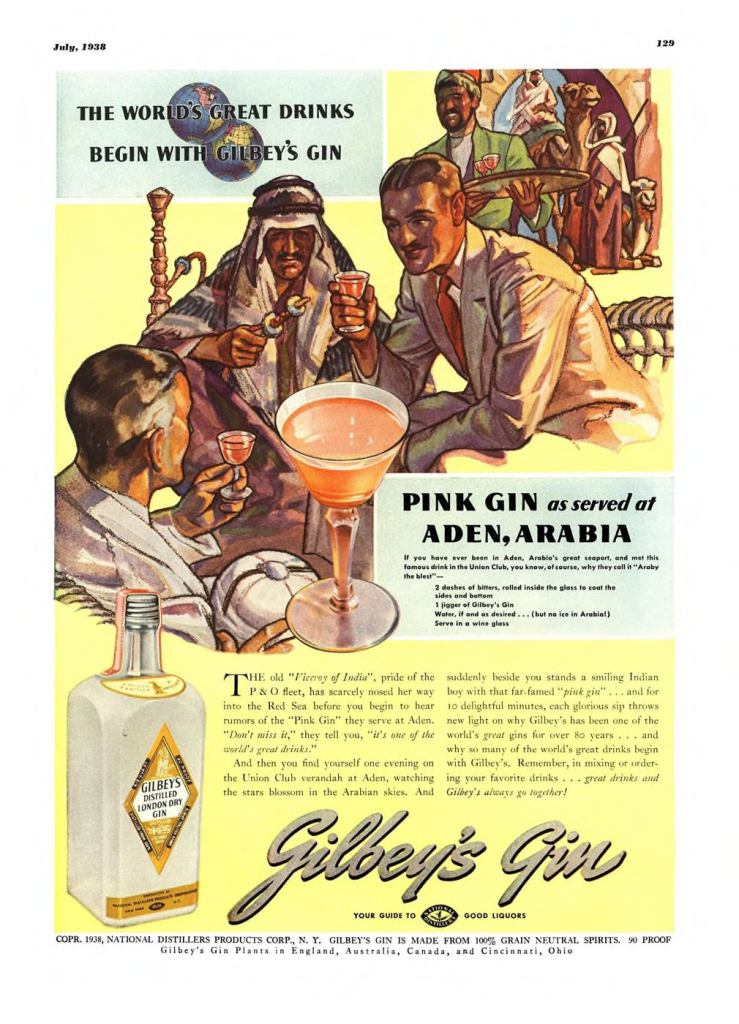 July, 1938
THE WORLD'S GREAT DRINKS BEGIN WITH GILBEY'S GIN
THE old "Viceroy of India", pride of the P & O fleet, has scarcely nosed her way into the Red Sea before you begin to hear rumors of the "Pink Gin" they serve at Aden. "Don't miss it" they tell you, "it's one of the world's great drinks."
And then you find yourself one evening on the Union Club verandah at Aden, watching the stars blossom in the Arabian skies. And Suddenly beside von stands a smiling Indian boy with that far-famed "pink gin" … and for
to delightful minutes, each glorious sip throws new light on why Gilbey's has been one of the world's great gins for over 80 years … and why so many of the world's great drinks begin with Gilbey's. Remember, in mixing or ordering your favorite drinks … great drinks and Gilbey's always go together!
Gilbey's Gin
Your Guide to National Distillers Good Liquors
Copyright 1938, National Distillers Products Corp., N. Y.
Gilbey's Gin is made from 100% Grain Neutral Spirits.
90 Proof
Gilbey's Gin Plants in England, Australia, Canada, and Cincinnati, Ohio