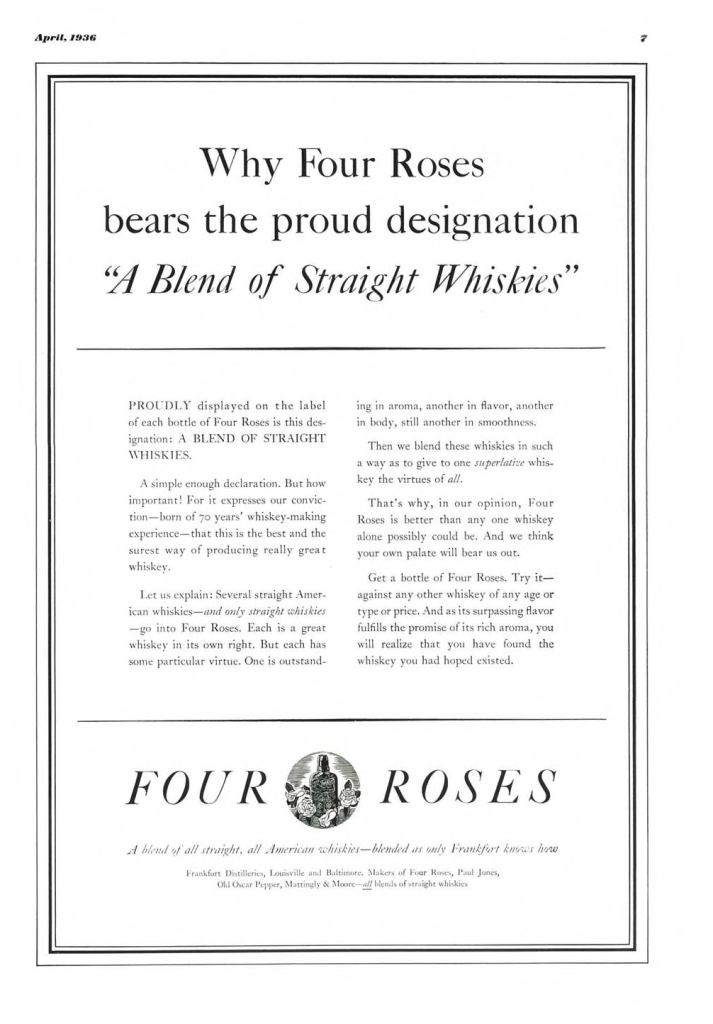 Why Four Roses bears the proud designation
"A Blend of Straight Whiskies"
Proudly displayed on the label of each bottle of Four Roses is this designation: A BLEND OK STRAIGHT WHISKIES.
A simple enough declaration. But how important! For it expresses our conviction—born of 70 years' whiskey-making experience—that this is the best and the surest way of producing really great whiskey.
Let us explain: Several straight American whiskies—and only straight whiskies—go into Four Roses. Each is a great whiskey in its own right. But each has some particular virtue. One is outstanding in aroma, another in flavor, another in body, still another in smoothness.
Then we blend these whiskies in such a way as to give to one superlative whiskey the virtues of all.
That's why, in our opinion, Four Roses is better than any one whiskey alone possibly could be. And we think your own palate will bear us out.
Get a bottle of Four Roses. Try it—against any other whiskey of any age or type or price. And as its surpassing flavor fulfills the promise of its rich aroma, you will realize that you have found the whiskey you had hoped existed.
FOUR ROSES WHISKEY
A blend of all straight, all American whiskies—blended as only Frankfort knows how
Frankfort Distilleries, Louisville and Baltimore, Makers of Four Roses, Paul Jones, Old Oscar Pepper, Mattingly & Moore—all blends of straight whiskies