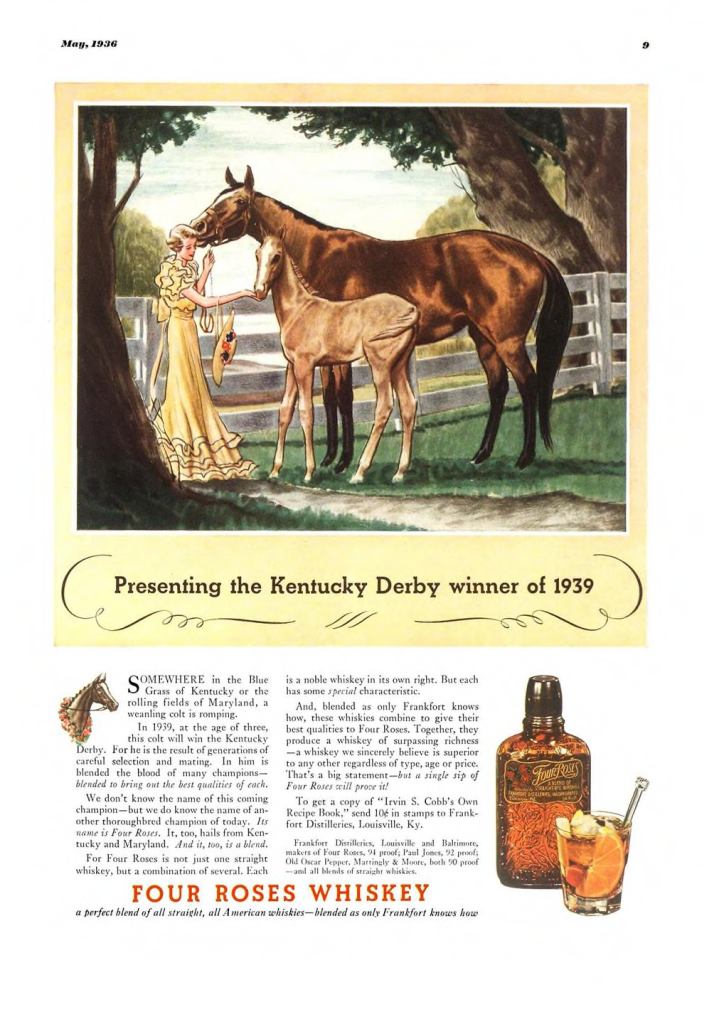 May, 1936
Presenting the Kentucky Derby winner of 1939
SOMEWHERE in the Blue Grass of Kentucky or the
rolling fields of Maryland, a weanling colt is romping.
In 1939, at the age of three, this colt will win the Kentucky Derby. For he is the result of generations of selection and mating. In him is blended the blood of many champions—blended to bring out the best qualities of each. We don't know the name of this coming champion—but we do know the name of another thoroughbred champion of today. Its name is Four Roses. It, too, hails from Kentucky and Maryland. And it, too, is a blend.
For Four Roses is not just one straight whiskey, but a combination of several. Each is a noble whiskey in its own right. But each has some special characteristic.
And, blended as only Frankfort knows how, these whiskies combine to give their best qualities to Four Roses. Together, they produce a whiskey of surpassing richness—a whiskey of sincerely believe is superior to any other regardless of type, age or price. That's a big statement—but a single sip of Four Roses will prove it!
To get a copy of "Irvin S. Cobb's Own Recipe Book," send 10c in stamps to Frankfort Distilleries, Louisville.
Frankfort Distilleries, Louisville and Baltimore, Makers of Four Roses, 94 proof, Paul Jones, 92 proof, Old Oscar Pepper, Mattingly & Moore, both 90 proof —and all blends of straight whiskies.
FOUR ROSES WHISKEY
a perfect blend of all straight, all American whiskies—blended as only Frankfort knows how