Mixed drink recipe from print advertisement for Four Roses Whiskey
For A Perfect Egg-Nog

Beal separately the yolks and whites of 6 fresh eggs. Add ½ cup of sugar to the yolks while beating, and ¼ cup of sugar to the whites after they have been beaten very stiff. Mix the egg whites with the yolks. Stir in 1 pint of rich cream and 1 pint of milk. Then add 1 pint of Four Roses Whiskey and 1 ounce of Jamaica Rum. Stir thoroughly, and serve very cold with grated nutmeg on each glass. (This recipe makes 5 pints of Egg-nog.)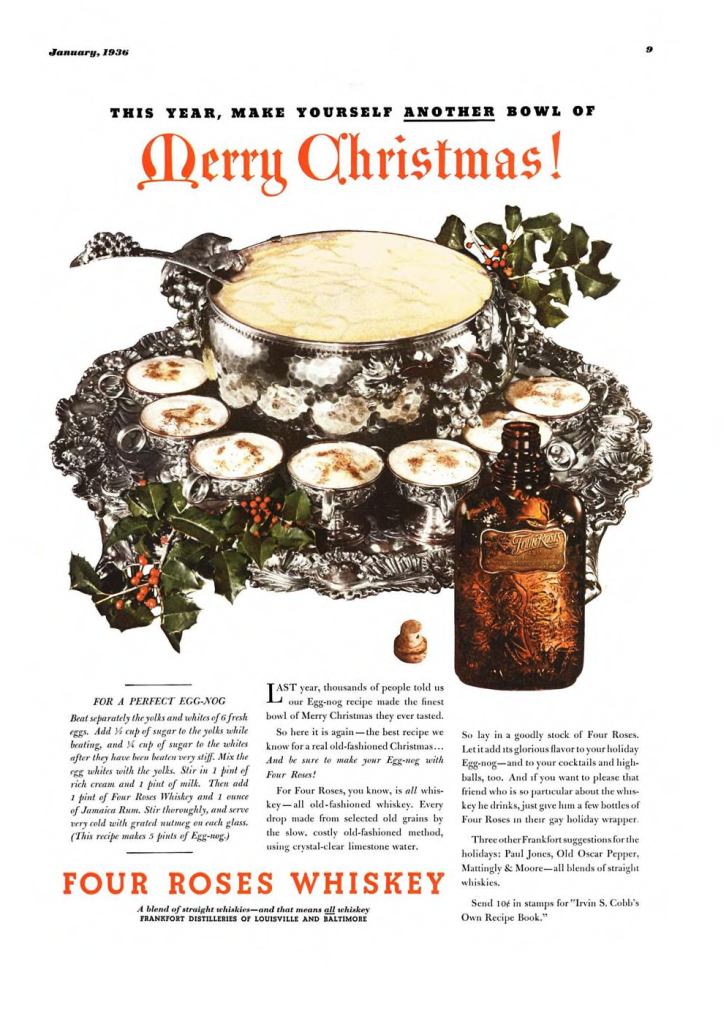 January, I936
This Year, Make Yourself Another Bowl Of Merry Christmas
LAST year, thousands of people told us our Egg-nog recipe made the finest bowl of Merry Christmas they ever tasted.
So here it is again—the best recipe we know for a real old-fashioned Christmas … And be sure to make jour Egg-nog with Four Roses!
For Four Roses, you know, is all whiskey—all old-fashioned whiskey. Every drop made from selected old grains by the slow, costly old-fashioned method, using crystal-clear limestone water.
So lay in a goodly stock of Four Roses. Let it add us glorious flavor to your holiday Egg-nog—and to your cocktails and highballs, too. And if you want to please that friend who is so particular about the whiskey he drinks, just give him a few hollies of Four Roses in their gay holiday wrapper.
Three other Frankfort suggestions for the holidays: Paul Jones, Old Oscar Pepper, Mattingly & Moore—all blends of straight whiskies.
Send 10c in stamps for "Irvin S. Cobb's Own Recipe Book."
Four Roses Whiskey
A blend of straight whiskies—and that means all whiskey
Frankfort Distilleries of Louisville and Baltimore