Mixed drink recipe from print advertisement for Four Roses Whiskey
The new Four Roses Cocktail

. . . easy to make . . . a joy to take!
(for 4 persons)
4 jiggers Four Roses Whiskey
2 jiggers French Vermouth
½ jiggers White Creme de Menthe
1 dash Angostura Bitters
Shake well in cracked ice, strain into cocktail glasses, serve with twist of Lemon Peel.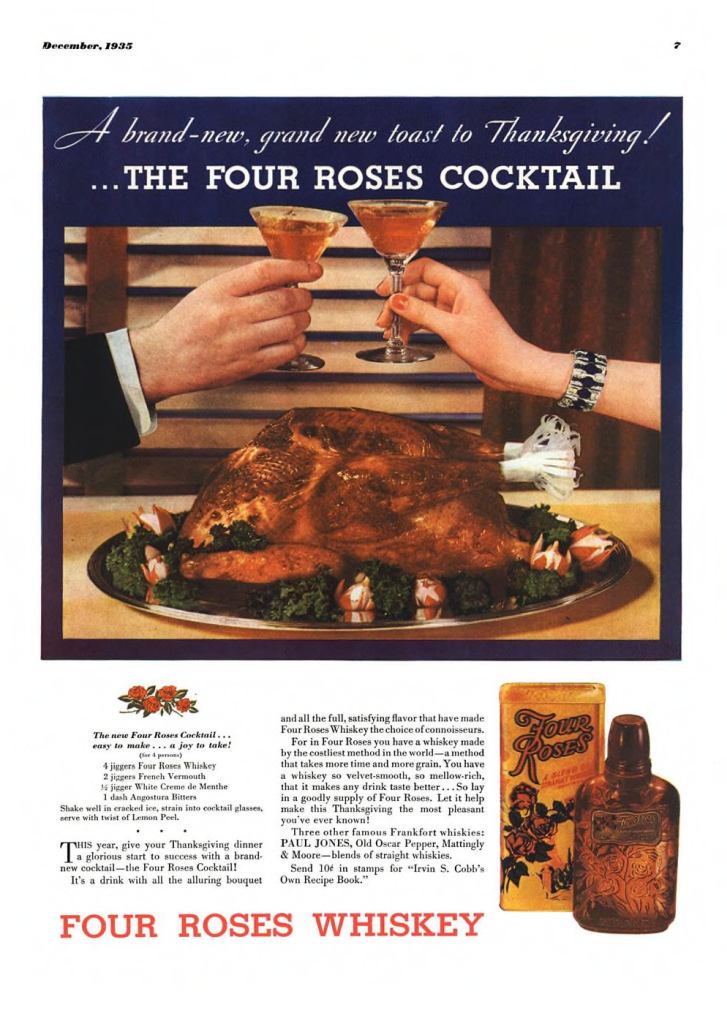 A brand-new, grand new toast to Thanksgiving!
… THE FOUR ROSES COCKTAIL
This year, give your Thanksgiving dinner a glorious start to success with a brand-new cocktail—the Four Roses Cocktail!
It's a drink with all the alluring bouquet and all the full, satisfying flavor that have made Four Roses Whiskey the choice of connoisseurs.
For in Four Roses you have a whiskey made by the costliest method in the world—a method that takes more time and more grain. You have a whiskey so velvet-smooth, so mellow-rich, that it makes any drink taste better … So lay in a goodly supply of Four Roses. Let it help make this Thanksgiving the most pleasant you've ever known!
Three other famous Frankfort whiskies: PAUL JONES, Old Oscar Pepper, Mattingly & Moore—blends of straight whiskies.
Send 10c in stamps for "Irvin S. Cobb's Own Recipe Book."
FOUR ROSES WHISKEY