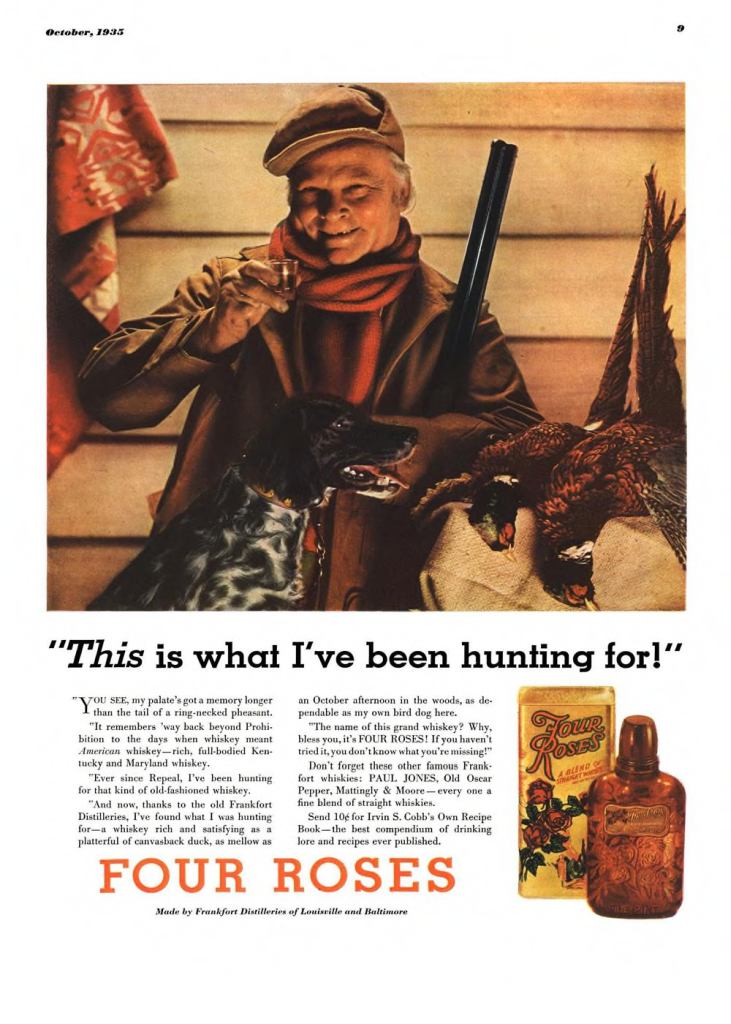 "This is what I've been hunting for!"
YOU SEE, my palate's got a memory longer than the tail of a ring-necked pheasant.
"It remembers 'way back beyond Prohibition to the days when whiskey meant American whiskey—rich, full-bodied Kentucky and Maryland whiskey.
"Ever since Repeal, I've been hunting for that kind of old-fashioned whiskey.
And now, thanks to the old Frankfort Distilleries, I've found what I was hunting for—a whiskey rich and satisfying as a platterful of canvasback duck, as mellow as an October afternoon in the woods, as dependable as my own bird dog here.
"The name of this grand whiskey? Why, bless you, it's FOUR ROSES! If you haven't tried it, you don't know what you're missing!"
Don't forget these other famous Frankfort whiskies: PAUL JONES, Old Oscar Pepper, Mattingly & Moore—every one a fine blend of straight whiskies.
Send 10c for Irvin S. Cobb's Own Recipe Book—the best compendium of drinking lore and recipes ever published.
FOUR ROSES
Made by Frankfort Distilleries of Louisville and Baltimore