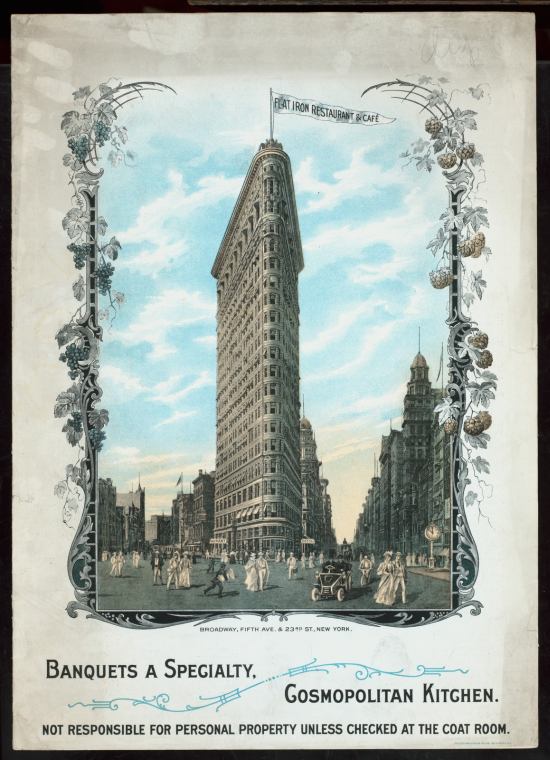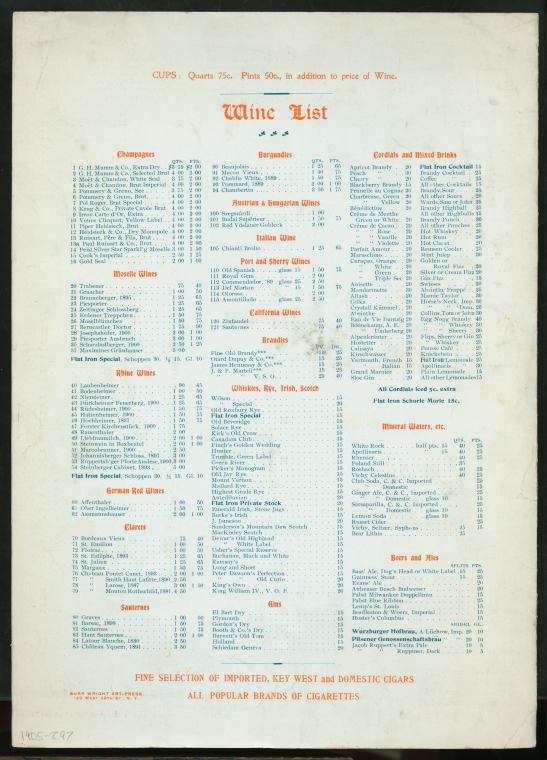 Cordials and Mixed Drinks
Apricot Brandy 20
Peach 30
Cherry 20
Blackberry Brandy 15
Prunelle au Cognac 20
Chartreuse, Green 20
Chartreuse, Yellow 20
Bénédictine 20
Crème de Menthe Green or White 20
Crème de Cacao 20
Crème de Rose 20
Crème de Vanille 20
Crème de Violette 20
Parfait Amour 20
Maraschino 20
Curaçao, Orange 20
Curaçao, White 20
Curaçao, Green 20
Curaçao, Triple Sec 20
Anisette 20
Mandarinette 30
Allash 20
Gilka 20
Crystall Kümmel 20
Absinthe 20
Eau de Vie Dantzig 20
Boonekamp, A. E. 20
Boonekamp, Underberg 20
Alpenkrauter 20
Hostetter 20
Calisaya 20
Kirschwasser 20
Vermouth, French 15
Vermouth, Italian 15
Grand Marnier 20
Sloe Gin 20
Flat Iron Cocktail 15
Brandy Cocktail 25
Coffee 25
All other Cocktails 15
Brandy Sour 25
All other Sours 20
Wards, Sam or John 25
Brandy Highball 25
All other Highballs 15
Brandy Punch 30
All other Punches 25
Hot Whiskey 20
Hot Rum 20
Hot Claret 20
Remsen Cooler 25
Mint Julep 30
Golden or Royal Fizz 20
Silver or Cream Fizz 20
Gin Fizz 15
Swisses 80
Absinthe Frappé 25
Mamie Taylor 30
Horse's Neck, Imp. 30
Horse's Neck, Dom. 20
Collins, Tom or John 30
Egg Nogg Brandy 40
Egg Nogg Whiskey 30
Egg Nogg Sherry 30
Flips, Sherry or Gin 25
Flips, Whiskey 25
Pousse Café 25
Knickebein 25
Flat Iron Lemonade 25
Apollinaris 30
Plain Lemonade 15
All other Lemonades 15
All Cordials iced 5c. extra
Flat Iron Schorle Morle 15c.
Brandies
Fine Old Brandy***
Otard Dupuy & Co.***
James Hennessy & Co.***
J. & F. Martell***
J. & F. Martell V. S. O.
Whiskies, Rye, Irish, Scotch
Wilson
Wilson Special
Old Roxbury Rye
Flat Iron Special
Old Beveridge
Solace Rye
Kirk s Old Crow
Canadian Club
Finch's Golden Wedding
Hunter
Trimble, Green Label
Green River
Picker's Monogram
Old Jay Rye
Mount Vernon
Mallard Rye
Highest Grade Rye
Antediluvian
Flat Iron Private Stock
Emerald Irish, Stone Jugs
Burke's Irish
J. Jameson
Sanderson's Mountain Dew Scotch
MacKinley Scotch
Dewar's Old Highland
Dewar's White Label
Usher's Special Reserve
Buchanan, Black and White
Ramsay's
Long and Short
Peter Dawson's Perfection
Peter Dawson's Old Curio
King's Own
King William IV, V. O. P.
Gins
El Part Dry
Plymouth
Gordon's Dry
Booth & Co.'s Dry
Burnett s Old Tom
Holland
Schiedam Geneva