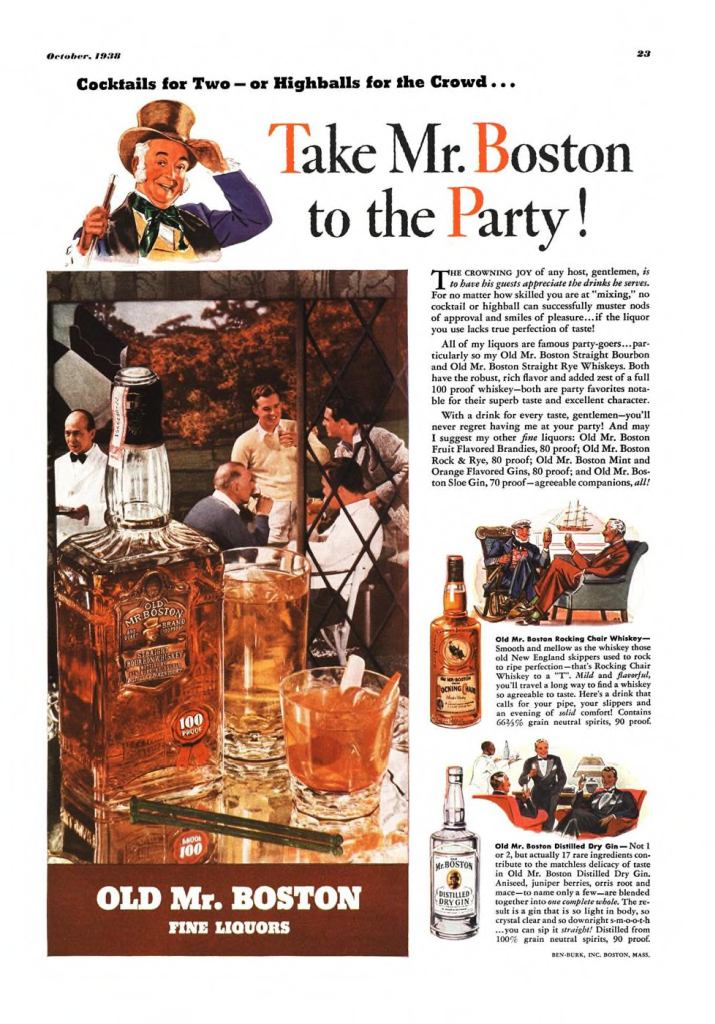 Cocktails for Two – or Highballs for the Crowd …
Take Mr. Boston to the Party!
THE CROWNING JOY of any host, gentlemen, is to have his guests appreciate the drinks be serves. For no matter how skilled you are at "mixing," no cocktail or highball can successfully muster nods of approval and smiles of pleasure … if the liquor you use lacks true perfection of taste!
All of my liquors are famous party-goers … particularly so my Old Mr. Boston Straight Bourbon and Old Mr. Boston Straight Rye Whiskeys. Both have the robust, rich flavor and added zest of a full 100 proof whiskey—both are party favorites notable for their superb taste and excellent character.
With a drink for every taste, gentlemen—you'll never regret having me at your party! And may I suggest my other fine liquors: Old Mr. Boston Fruit Flavored Brandies, 80 proof; Old Mr. Boston Rock & Rye, 80 proof; Old Mr. Boston Mint and Orange Flavored Gins, 80 proof; and Old Mr. Boston Sloe Gin, 70 proof—agreeable companions, all!
Old Mr. Boston Rocking Choir Whiskey—Smooth and mellow as the whiskey those old New England skippers used to rock to ripe perfection—that's Rocking Chair Whiskey to a 'T". Mild and flavorful, you'll travel a long way to find a whiskey so agreeable to taste. Here's a drink that calls for your pipe, your slippers and an evening of solid comfort! Contains 66⅔% grain neutral spirits, 90 proof.
Old Mr. Boston Distilled Dry Gin—Not 1 or 2, but actually 17 rare ingredients contribute to the matchless delicacy of taste in Old Mr. Boston Distilled Dry Gin. Aniseed, juniper berries, orris root and mace—to name only a few—are blended together into one complete whole. The result is a gin that is so light in body, so crystal clear and so downright s-m-o-o-t-h … you can sip it straight! Distilled from 100% grain neutral spirits, 90 proof.
Ben-Burk. Inc., Boston, Mass.