Mixed drink recipe from print advertisement for Old Mr. Boston Gin
TOM COLLINS

For a delicious Tom Collins here's my very best recipe:
Use 12-oz. glass
2 oz. Old Mr. Boston Dry Gin
Juice of ½ lemon
Teaspoon powdered sugar
Fill with seltzer
Decorate with slice of orange, lemon and cherry
For the smoothest Martini you ever had use Old Mr. Boston Distilled Dry Gin.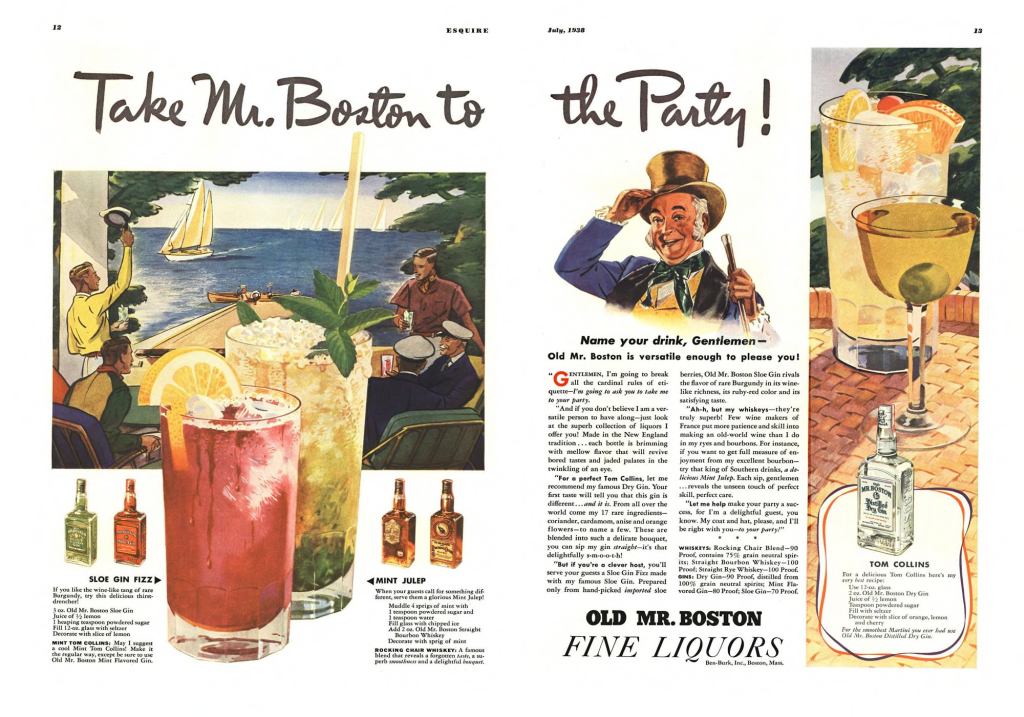 Take Mr. Boston to the Party!
SLOE GIN FIZZ
If you like the wine-like tang of rare Burgundy, try this delicious thirst-drencher!
3 oz. Old Mr. Boston Sloe Gin
Juice of ½ lemon
1 heaping teaspoon powdered sugar
Fill 12-oz. glass with seltzer
Decorate with slice of lemon
MINT TOM COLLINS: May I suggest a cool Mint Tom Collins! Make it the regular way, except he sure to use Old Mr. Boston Mint Flavored Gin.
MINT JULEP
When your guests call for something different, serve them a glorious Mint Julep!
Muddle 4 sprigs of mint with
1 teaspoon powdered sugar and
1 teaspoon water
Fill glass with chipped ice
Add 2 on. Old Mr. Boston Straight Bourbon Whiskey
Decorate with sprig of mint
ROCKING CHAIR WHISKEY: A famous blend that reveals a forgotten taste, a superb smoothness and a delightful bouquet.
Name your drink, Gentlemen—
Old Mr. Boston is versatile enough to please you!
"GENTLEMEN, I'm going to break all the cardinal rules of etiquette—I'm going to ask you to take rue to your party.
"And if you don't believe I am a versatile person to have along—just look at the superb collection of liquors I offer you! Made in the New England tradition … each bottle is brimming with mellow flavor that will revive bored tastes and jaded palates in the twinkling of an eye.
"For a perfect Tom Collins, let me recommend my famous Dry Gin. Your first taste will tell you that this gin is different … and it is. From all over the world come my 17 rare ingredients-coriander, cardamom, anise and orange flowers—to name a few. These are blended into such a delicate bouquet, you can sip my gin straight—it's that delightfully s-m-o-o-t-h!
"But if you're o clever host, you'll serve your guests a Sloe Gin Fizz made with my famous Sloe Gin. Prepared only from hand-picked imported sloe berries. Old Mr. Boston Sloe Gin rivals the flavor of rare Burgundy in its wine-like richness, its ruby-red color and its satisfying taste.
"Ah-h, but my whiskeys—they're truly superb! Few wine makers of France put more patience and skill into making an old-world wine than I do in my ryes and bourbons. For instance, if you want to get full measure of enjoyment from my excellent bourbon-try that king of Southern drinks, a delicious Mint Julep. Each sip, gentlemen … reveals the unseen touch of perfect skill, perfect care.
"Let me help make your party a success, for I'm a delightful guest, you know. My coat and hat, please, and I'll be right with you—to your party!"
WHISKEYS: Rocking Chair Blend—90 Proof, contains 75% grain neutral spirits; Straight Bourbon Whiskey—100 Proof; Straight Rye Whiskey—100 Proof.
GINS: Dry Gin—90 Proof, distilled from 100% grain neutral spirits; Mint Flavored Gin—80 Proof; Sloe Gin—70 Proof.
OLD MR. BOSTON
FINE LIQUORS
Ben-Burk. Inc., Boston, Mass.