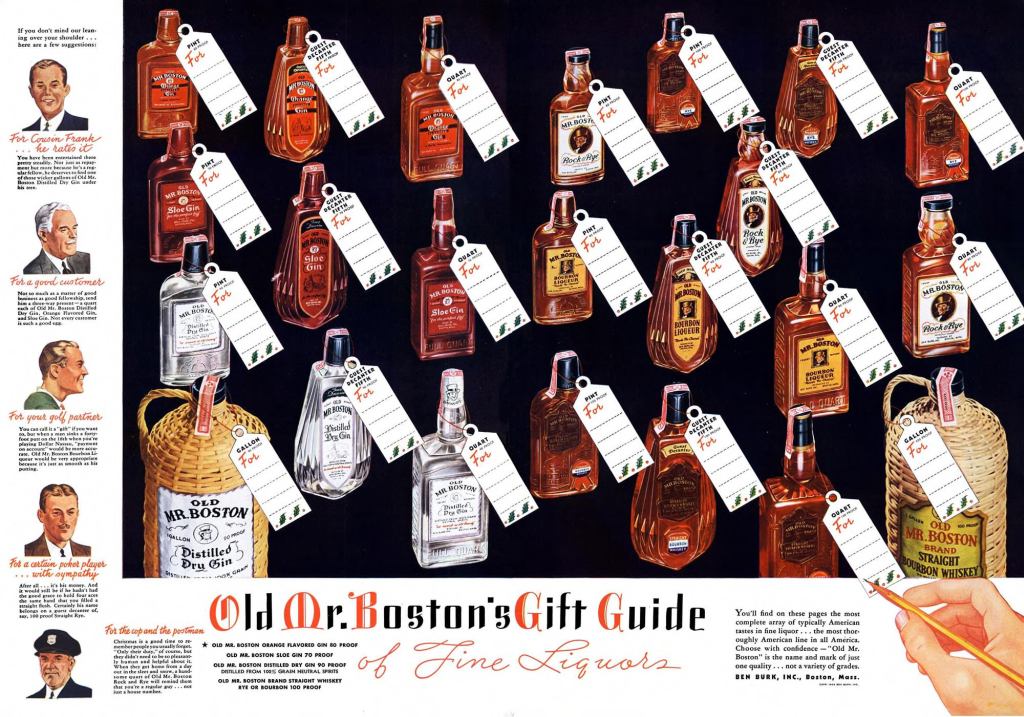 Old Mr. Boston's Gift Guide of Fine Liquors
If you don't mind our leaning over your shoulder … here are a few suggestions:
For Cousin Frank … he rates it
You have been entertained there pretty steadily. Not just as repaymeat but more because he's a regular fellow, he deserves to find one or those wicker gallons of Old Mr. Boston Distilled Dry Gin under his tree.
For a good customer
Not in much as a matter of good business as good fellowship, send him a three-way present—a quart each of Old Mr. Button Distilled Dry Gin, Orange Flavored Gin, and Sloe Gin. Not every curtomer is such a good egg.
For your golf partner
You can call it a "gift" if you want to, but when a man sinks a forty-foot putt on the 18th when you're playing Dollar Nassau, "payment on account" would be more accurate. Old Mr. Boston Bourbon Liqueur would be very appropriate because it's just as smooth as his pulling.
For a certain poker player … with sympathy
After all … it's his money. And it would still be if he hadn't had the good grace to hold four aces the same hand that you filled a straight flush. Certainty his name belongs on a guest decanter of, say, 100 proof Straight Rye.
For the cop and the postman
Christmas is a good lime to remember people you usually forget. "Only their duty," of course, but they didn't need to be so pleasantly human and helpful about it. When they get home from a day out in the sleet and mow, a handsome quart of Old Mr. Boston Rock and Rye will remind them that you're a regular guy … not just a house number.
Old Mr. Boston Orange Flavored Gin 80 Proof
Old Mr. Boston Sloe Gin 70 Proof
Old Mr. Boston Distilled Dry Gin 90 Proof Distilled from 100% Grain Neutral Spirits
Old Mr. Boston Brand Straight Whiskey Rye or Bourbon 100 Proof
You'll find on these pages the most complete array of typically American tastes in fine liquor … the most thoroughly American line in all America. Choose with confidence—"Old Mr. Boston" is the name and mark of just one quality … not a variety of grades.
Ben Burk, Inc., Boston, Mass.