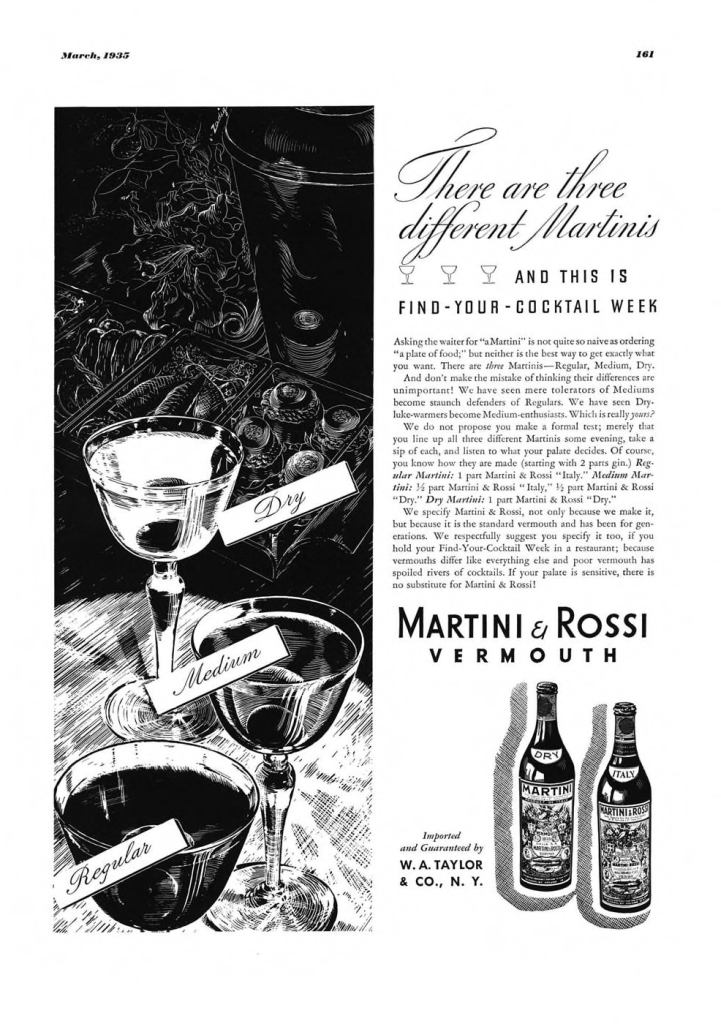 There are three different Martinis and this is find-your-cocktail week
Asking the waiter for "a Martini" is not quite so naive as ordering "a plate of food;" but neither is the best way to get exactly what you want. There are three Martinis—Regular, Medium, Dry.
And don't make the mistake of thinking their differences are unimportant! We have seen mere tolerators of Mediums become staunch defenders of Regulars. We have seen Dry-luke-warmers become Medium-enthusiasts. Which is really yours?
We do not propose you make a formal test; merely that you line up all three different Martinis some evening, take a sip of each, and listen to what your palate decides. Of course, you know how they are made (starting with 2 parts gin.) Regular Martini: 1 part Martini & Rossi "Italy." Medium Martini: ½ part Martini & Rossi " Italy," ½ part Martini & Rossi "Dry." Dry Martini: 1 part Martini & Rossi "Dry."
We specify Martini & Rossi, not only because we make it, but because it is the standard vermouth and has been for generations. We respectfully suggest you specify it too, it you hold your Find-Your-Cocktail Week in a restaurant; because vermouths differ like everything else and poor vermouth has spoiled rivers of cocktails. If your palate is sensitive, there is no substitute for Martini & Rossi!
Martini & Rossi Vermouth
Imported and Guaranteed by W. A. TAYLOR & CO., N. Y.