Mixed drink recipe from print advertisement for Martini & Rossi Vermouth

Manhattan

1 part rye or Irish whiskey, 1 part Martini & Rossi (½ Italy, ½ Dry), bitters, maraschino cherry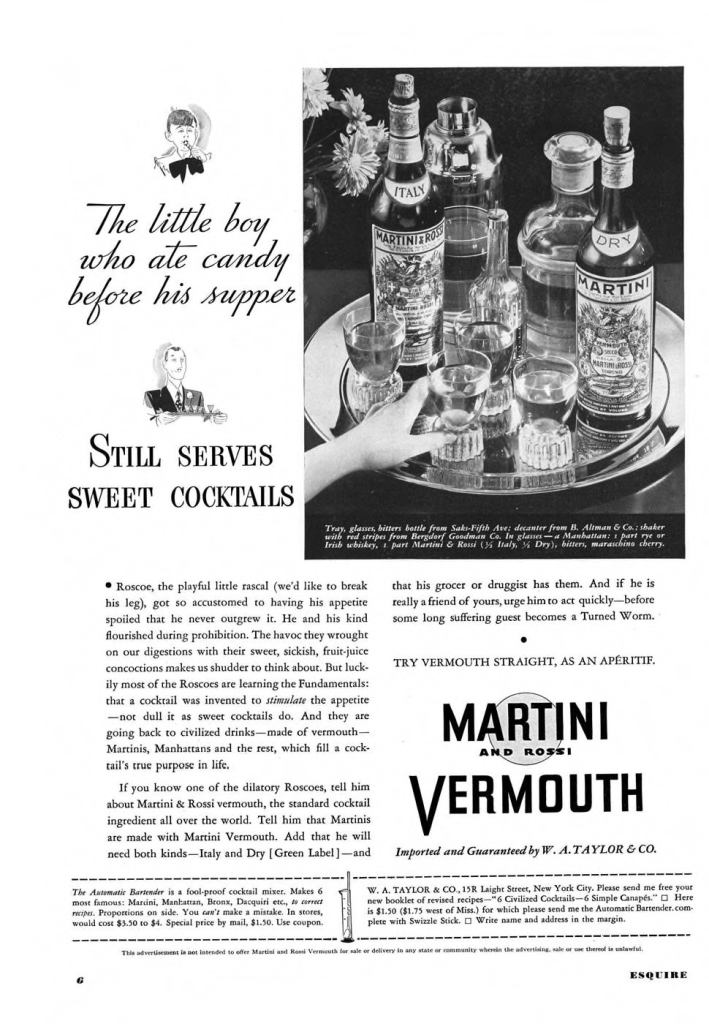 The little boy who ate candy before his supper
Still serves sweet cocktails
Tray, glasses, bitters bottle from Saks-Fifth Ave: decanter from B. Altman & Co.: shaker with red stripes from Bergdorf Goodman Co. In glasses—a Manhattan: 1 part rye or Irish whiskey, 1 part Martini & Rossi (½ Italy, ½ Dry), bitters, maraschino cherry.
• Roscoe, the playful little rascal (we'd like to break his leg), got so accustomed to having his appetite spoiled that he never outgrew it. He and his kind flourished during prohibition. The havoc they wrought on our digestions with their sweet, sickish, fruit-juice concoctions makes us shudder to think about. But luckily most of the Roscoes are learning the Fundamentals: that a cocktail was invented to stimulate the appetite—not dull it as sweet cocktails do. And they are going back to civilized drinks—made of vermouth—Martinis, Manhattans and the rest, which fill a cocktail's true purpose in life.
If you know one of the dilatory Roscoes, tell him about Martini & Rossi vermouth, the standard cocktail ingredient all over the world. Tell him that Martinis are made with Martini Vermouth. Add that he will need both kinds—Italy and Dry [Green Label]—and that his grocer or druggist has them. And if he is really a friend of yours, urge him to act quickly—before some long suffering guest becomes a Turned Worm.
Try Vermouth Straight, as an Aperitif.
Martini & Rossi Vermouth
Imported and Guaranteed by W. A. Taylor & Co.
The Automatic Bartender is a fool-proof cocktail miser. Makes 6 most famous: Martini, Manhattan, Bronx, Dacquiri etc., to correct recipes. Proportions on side. You can't make a mistake. In stores, would cast. $3.50 to $4. Special price by mail, $1.30. Use coupon.
W. A. TAYLOR & CO., 15R Laight Street, New York City. Please send me free your new booklet of revised recipes—"6 Civilized Cocktails—6 Simple Canapes." Here is $1.50 ($1.75 west of Miss.) for which please send me the Automatic Bartender, complete with Swizzle Stick. Write name and address in the margin.