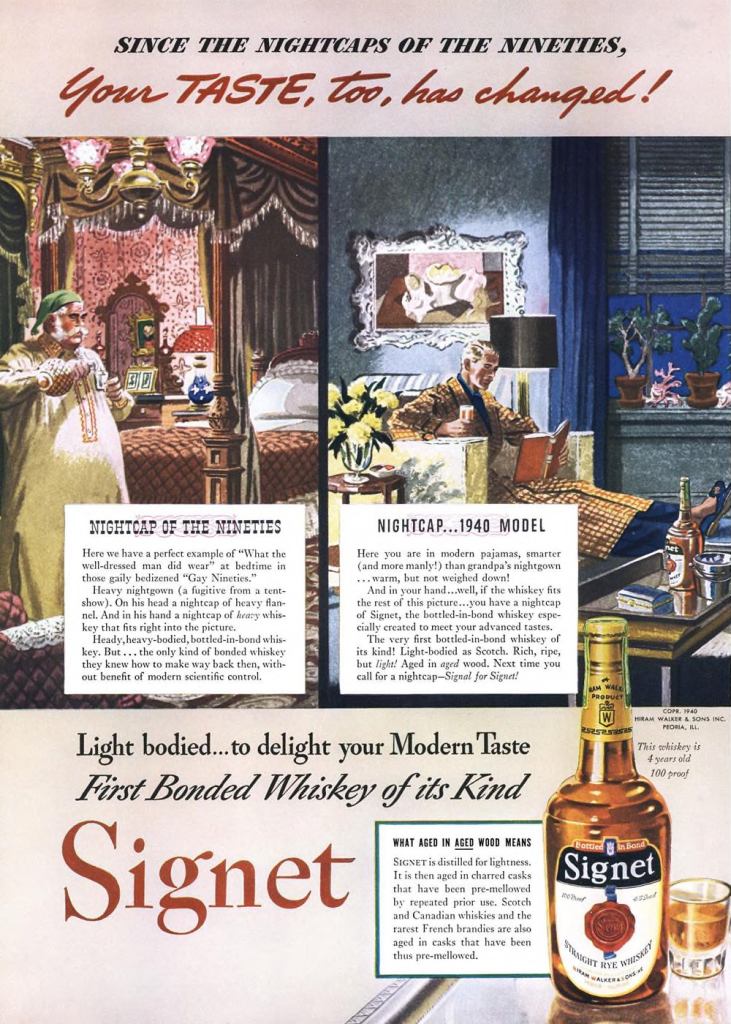 Since The Nightcaps of the Nineties, Your TASTE, too, has changed!
Nightcap of the Nineties
Here we have a perfect example of "What the Well-dressed man did wear" at bedtime in those gaily bedizened "Gay Nineties."
Heavy nightgown (a fugitive from a tent-show). On his bead a nightcap of heavy flannel. And in his hand a nightcap of heavy whiskey that fits right into the picture.
Heady, heavy-bodied, bottled-in-bond whiskey. But … the only kind of bonded whiskey they knew bow to make way back then, without benefit of modern scientific control.
Nightcap … 1940 Model
Here you are in modern pajamas, smarter (and more manly!) than grandpa's nightgown … warm, but not weighed down!
And in your hand … well, if the whiskey fits the rest of this picture … you have a nightcap of Signet, the bottled-in-bond whiskey especially created to meet your advanced tastes.
The very first bottled-in-bond whiskey of its kind! Light-bodied as Scotch. Rich, ripe, but light! Aged in aged wood. Next time you call for a nightcap—Signal for Signet!
Light bodied … to delight your Modern Taste
First Bonded Whiskey of its kind
Signet
What Aged in Aged Wood Means
Signet is distilled for lightness. It is then aged in charred casks that have been pre-mellowed by repeated prior use. Scotch and Canadian whiskies and the rarest French brandies are also aged in casks that have been thus pre-mellowed.
This Whiskey is 4 years old
100 proof
1940, Hiram Walker & Sons Inc., Peoria, Illinois