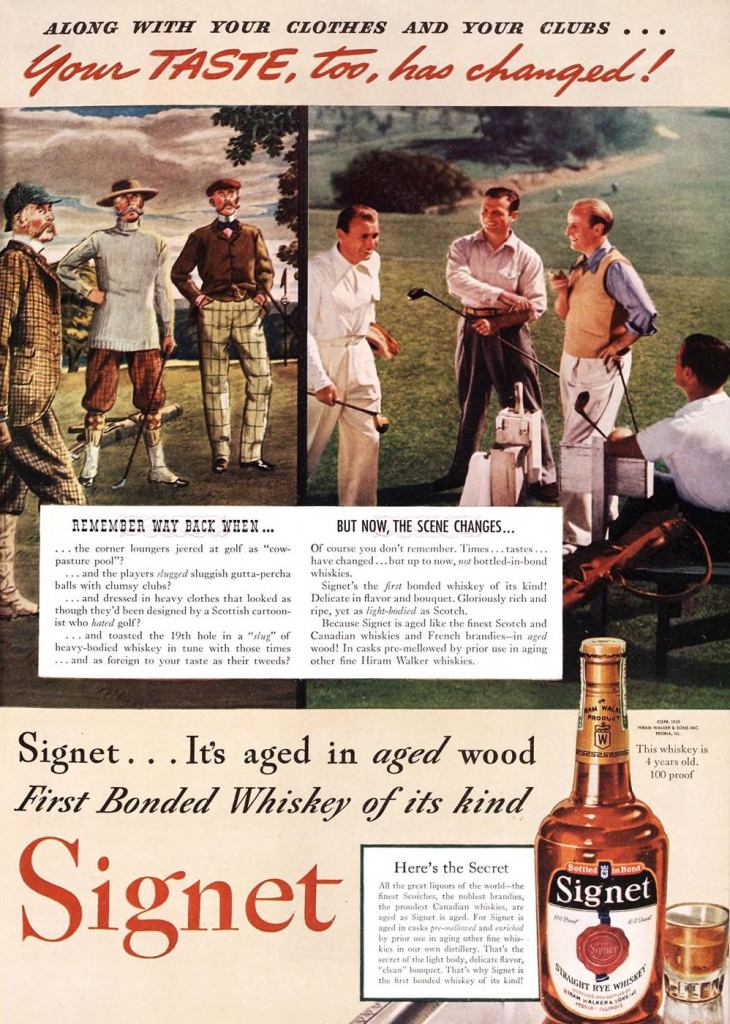 Along With Your Clothes and Your Clubs …
Your TASTE, too, has changed!
Remember Way Back When …
… the corner loungers jeered at golf as "cow-pasture pool"?
… and the players slugged sluggish gutta-percha
balls with clumsy clubs?
… and dressed in heavy clothes that looked as though they'd been designed by a Scottish cartoonist who haled golf?
… and toasted the 19th hole in a "slug" of heavy-bodied whiskey in tune with those times
… and as foreign to your taste as their tweeds?
But Now, The Scene Changes …
Of course you don't remember. Times … tastes … have changed … but up to now, not bottled-in-bond whiskies.
Signet's the first bonded whiskey of its kind! Delicate in flavor and bouquet. Gloriously rich and ripe, yet as light-bodied as Scotch.
Because Signet is aged like the finest Scotch and Canadian whiskies and French brandies—in aged wood! In casks pre-mellowed by prior use in aging other fine Hiram Walker whiskies.
Signet … It's aged in aged wood First Bonded Whiskey of its kind
Signet
Here's the Secret
All the great liquor, of the world—the finest Scotches, the noblest brandies, the proudest Canadian whiskies, are aged as Signet is aged. For Signet is aged in casks pre-mellowed and enriched by prior use in aging other fine whiskies in our own distillery. That's the secret of the light body, delicate flavor, "clean" bouquet. That's why Signet is the first bonded whiskey of its kind!
This whiskey is 4 years old.
100 proof
1939, Hiram Walker & Sons Inc., Peoria, Illinois