Mixed drink recipe from print advertisement for Gilbey's Dry Gin
The GIMLET as they make it in MALTA

Historic little Malta has its own version of this delicious drink that is famous from Gibraltar to Istanbul. You take
One jigger of Gilbey's Dry Gin
Half a jigger of lime juice
Slice of lemon or lime .. very thin
A dash of bitters, if you like
Cracked ice
Water as desired.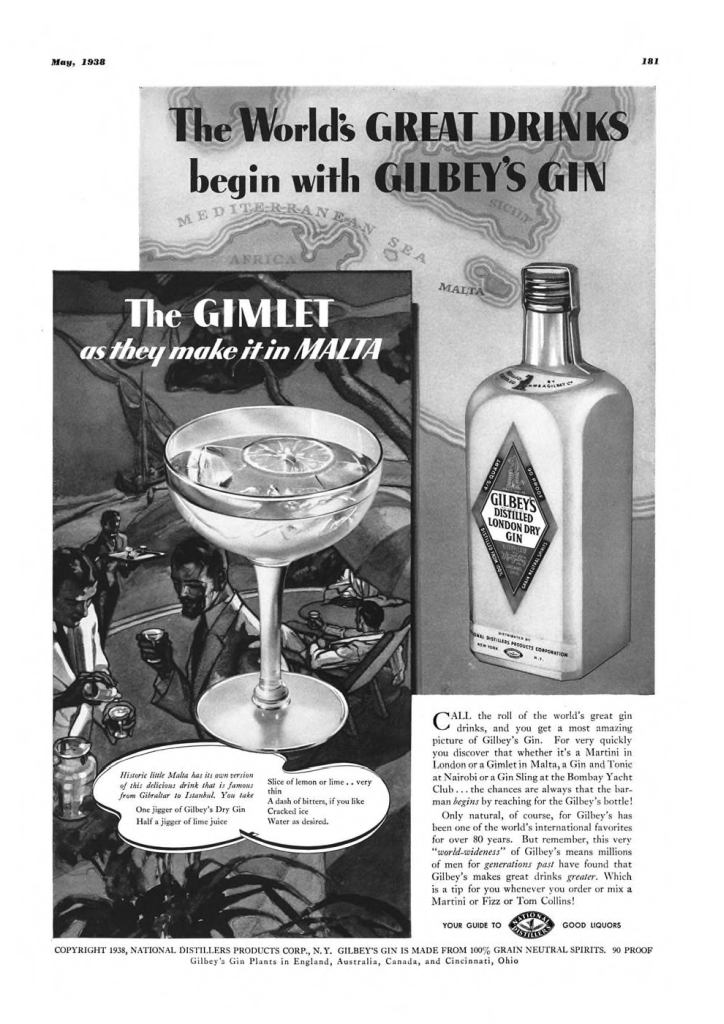 May, 1938
The World's GREAT DRINKS begin with GILBEY'S GIN
CALL the roll of' the world's great gin drinks, and you get a most amazing picture of Gilbey's Gin. For very quickly you discover that whether it's a Martini in London or a Gimlet in Malta, a Gin and Tonic at Nairobi or a Gin Sling at the Bombay Yacht Club … the chances are always that the barman begins by reaching for the Gilbey's bottle!
Only natural, of course, for Gilbey's has been one of the world's international favorites for over 80 years. But remember, this very "world-wideness" of Gilbey's means millions of men for generations past have found that Gilbey's makes great drinks greater. Which is a tip for you whenever you order or mix a Martini or Fizz or Tom Collins!
Your Guide to National Distillers Good Liquors
Copyright 1938, National Distillers Products Corp., N. Y.
Gilbey's Gin is made from 100% Grain Neutral Spirits.
90 Proof
Gilbey's Gin Plants in England, Australia, Canada, and Cincinnati, Ohio