Mixed drink recipe from print advertisement for Four Roses Whiskey
Here's The World's Best Nightcap!

Dissolve one piece of Sugar in a little hot water. Add 1 piece of Cinnamon, 1 piece of Lemon peel, several Cloves and 1 drink of Four Roses Whiskey. Fill glass with hot water and sprinkle a little Nutmeg on top.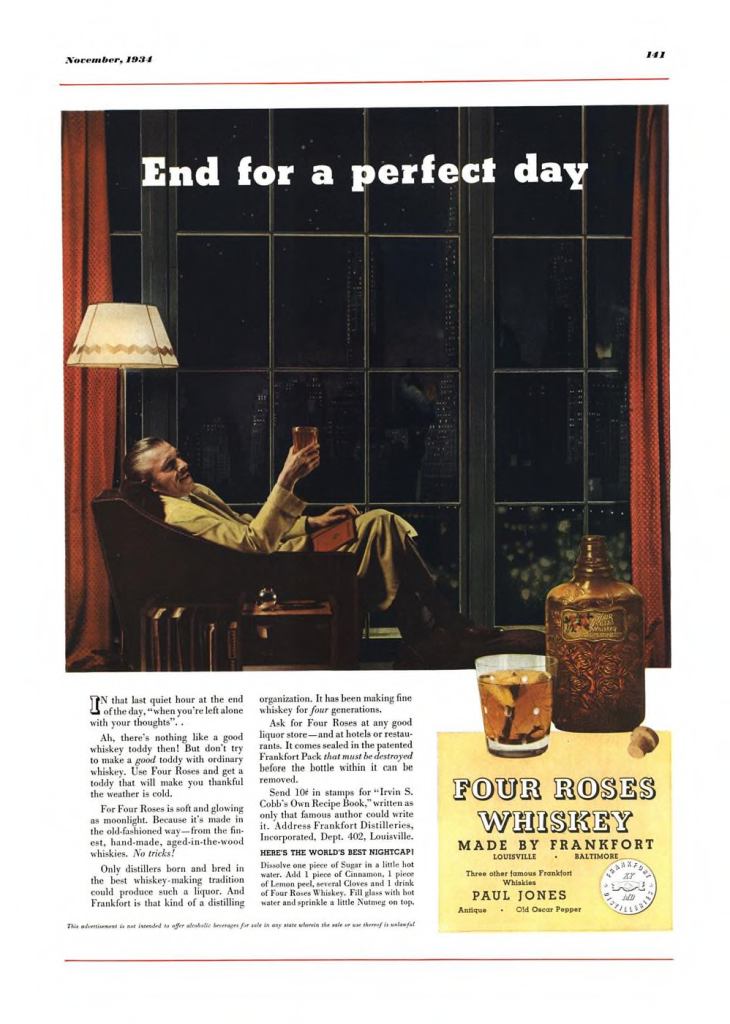 November, 1934
End for a perfect day
In that last quiet hour at the end of the day, "when you're left alone with your thoughts".
Ah, there's nothing like a good whiskey toddy then! But don't try to make a good toddy with ordinary whiskey. Use Four Roes and get a toddy that will make you thankful the weather is cold.
For Four Roses is soft and glowing as moonlight. Because it's made in the old-fashioned way—from the finest, hand-made, aged-in-the-wood whiskies. No tricks!
Only distillers born and bred in the best whiskey-making tradition could produce such a liquor. And Frankfort is that kind of a distilling organization. It has been making fine, whiskey for four generations.
Ask for Four Roses at any good liquor store—and at hotels or restaurants. It comes sealed in the patented Frankfort Pack that must be destroyed before the bottle within it can be removed.
Send 10c in stamps for "Irvin S. Cobb's Own Recipe Book," written as only that famous author could write it. Address Frankfort Distilleries, Incorporated Dept. 402, Louisville.
Four Roses
Made by Frankfort
Louisville • Baltimore
Three other famous Frankfort whiskies
• Paul Jones • Old Oscar Pepper • Antique